FIFA 2020 Review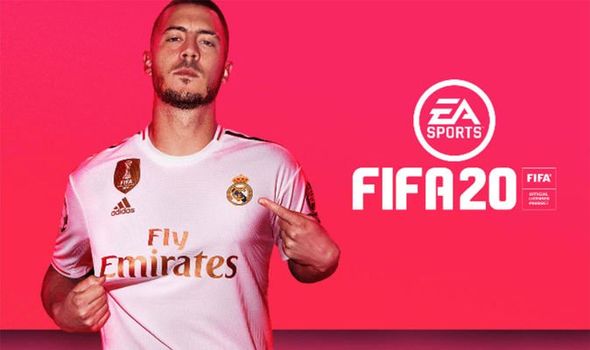 FIFA 2020 review by René Treur
One of my favourite game series of all time must be FIFA. The oldest titles I played where around 1997. Before that I played ISS, Winning eleven/PES – Konami's much praised FIFA rival Pro Evolution Soccer -, and a Sega Master System title I don't remember the name of.
I do remember you could give a wicked curve to the ball even after it left your foot, which consisted of just a few pixels! I had a number of years where I enjoyed PES more than FIFA, there were even a few years where I bought both games, though from the top of my head I don't remember when this was exactly.
These past few years I have always tried both games, and I had a hard time choosing between the titles at first. Playing with my friends from elementary school is the most fun I have playing soccer games, so usually it's a group decision in the end, and they have preferred FIFA in the past 5 years in a row.
Having been involved in all English spoken Konami PES League events for the 2018/2019 season as well as the most recent WESG event in Chongqing and the World Championship in the Emirates Stadium in London, Konami sent me their 2020 game. So once again I played both titles this past year, but in the end I've spent most time playing FIFA, so this review will focus on the Electronic Arts title.
How to play FIFA 2020?
Now this a question with multiple answers. Like I said, the way I play FIFA mostly is simply getting together with friends in one house, and playing two versus two while ripping each other apart verbally, enjoying a drink and sharing our most recent stories. Good old offline multiplayer, which dates all the way back to when we played games like Mortal Kombat, FIFA, Street Fighter and NBA Jam on the Sega Master System, Sega Mega Drive, NES and SNES – Nintendo.

The most popular way to play FIFA however, is definitely FUT -FIFA Ultimate Team- , and from an esports perspective, playing weekend league with that FUT team to try and qualify for one of EA's FUT Champions Cups. You basically create your own team, with a custom logo, shirt and team name. By buying Ultimate Team-packs you unpack random players, sometimes you will get a great player like Messi and Cristiano, but most of the time you will get average players like Aaron Wan-Bissaka (editors note : sorry Aaron, I am certain your rating will be boosted heavily for the next FIFA edition). There are several Icon cards with the great players of the past, and EA regularly drops special cards like the TOTS -team of the season- cards. Basically this is a pay-to-win system, which is very smart of EA to implement.
The Belgian gambling commission has banned loot boxes however, and some other countries are investigating and may follow. Unfortunately for us players, each FIFA version we will have to start grinding or splashing the cash to get our FUT team up to scratch again, so some not so hardcore esports players may eventually lose the drive to start building a new FUT team after several editions of FIFA.
FIFA 2020 modes
There are several different modes. As per usual you will have the option to refine your skills in practice arena, there is the special mode VOLTA Football, you can play the FIFA version of the Champions League, etc.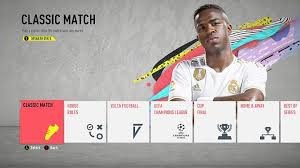 When it comes to the way to play in order to win matches, FIFA has transformed massively over the years. Where in FIFA 99 you would simply play the flank and whip in a high cross (100 % goal with a header at the back post, it would get so easy that I would always try to to finish with sick bicycle kicks), you will have a bigger chance at success by low crosses and weaving through the box in order to create space for a shot.
A big difference compared to FIFA 19 is the fact that this way has a way bigger success rate than the timed finesse shots and the long distance drives in the far corner. Defending has also become a bit harder, you have to really time your challenges well. Personally I preferred the gameplay in FIFA 19, but maybe that is because I've not managed to find as much time to play this version as the last one yet and as a result I have gotten my rear handed to me more often by my friends, who play it on a daily basis.
If you want to play at a top level, the most important thing is going to be patience. Playing against top contenders there will not be much room to thread your through balls, and scoring the first goal will often prove crucial in an encounter between evenly matched players with equally skilled teams.
FIFA 2020 Special Features
There are several different modes, such as VOLTA, which is basically a spectacular version of street football in FIFA. This mode is almost NBA Jam like with the special moves, but this part of the game lacks the depth needed to keep me invested. It is fun when you're playing with your friends but you're at that point where it's getting redundant or you can't find common ground as to what teams to choose -top level teams or mediocre teams to freshen things up, the eternal discussion we have-, but not for hours in a row every day.
I already touched on FUT and weekend league, and the ability to customize your team. Especially these days when young gamers want to be unique and visible, and give their own spin to characters, weapons, and clubs or teams this mode perfectly plays into that urge. More on FUT and Weekend League later in our esports and betting section.
My favourite special feature is the sideways dribble, or strafe-dribble. It's great fun for taunting your friends or opponents, but also can work very well to skip past defenders.
Another special feature that is fun for us Dutchies, but doesn't do much for our English and international readers, is the new Dutch commentators. After years and years of Evert ten Napel and Youri Mulder we now have Sierd de Vos and Jeroen Grueter, who do a marvellous job. Of course the statements are not always on point, but at least it feels fresh.
Betting online FIFA 2020
When it comes to tournaments, you will certainly get your fix with FIFA, as per usual.
As an esports commentator I had about 30 tournaments last year, rough estimate. Each and every year I get more, and those are just the tournaments with organizers that are willing to do live broadcasting and pay one or more commentators to be involved. Competitive leagues and tournaments will only grow as time progresses.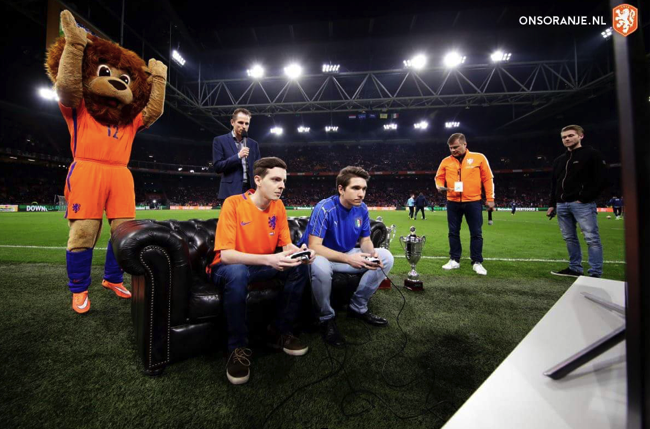 The highlight of the tournaments will once again be the FUT Champions Cups – for which players have to qualify through several 30-0 results in Weekend League or regional qualifier events -, as well as the national televised leagues that have been launched all over the globe in the past three years.
Just during the summer of 2020 countries such as Malaysia, Mexico and Finland have announced to organise an official FIFA competition in co-operation with the professional football league and clubs in said countries. Italy has also finally joined the party at the start of the year, but made up for being late by not just organising a digital competition for Serie A (using FIFA), but also Lega B (using PES).
Spanish player Alfonso Ramos and French legend Bruce Grannec have lifted two FIFA Interactive World Cup titles each. In recent years the official EA competition was renamed to FIFA eWorld Cup. Spencer Ealing took home the gold for the UK in 2017, which meant a second British world title after Chris Bullard in 2005. The UK had two vice world champions in David Bytheway and Sean Allen, in 2014 and 2016.
My fellow countrymen have fared only marginally less well with Andries Smit managing a solitary Dutch world title back in 2006, but several players coming close to the final, most notably the likes of Koen Weijland and Dani Hagebeuk.
In 2018 I cheered as my Belgian friend Stefano Pinna took the title of best PlayStation player in the world, but he lost the grand final against Saudi Arabian Xbox player Mossad Aldossary and became vice world champion.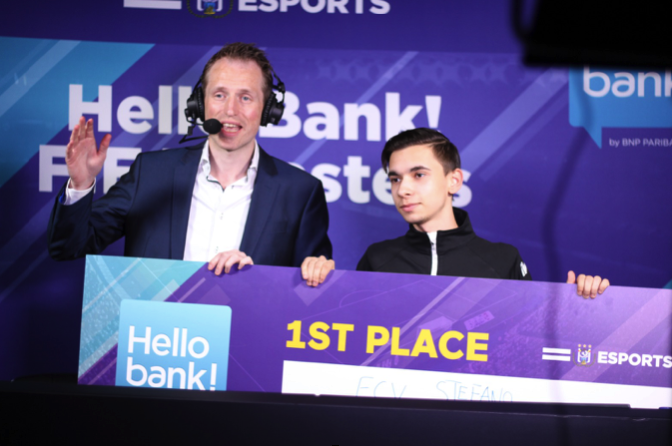 If you are determined to replicate these legendary performances, start by watching a lot of videos with professional players either going head to head or giving tips while playing.
An easier way to make money however, might be to bet on the outcomes of the top-level games.

So far as a commentator I have been involved in both Edivisie (the Netherlands) and Proximus eProleague (Belgium) as both a commentator/host and advisor during the planning phase of the first seasons. We just finished the second season in Belgium in June, three months later than planned due to Covid19 breaking out. eDivisie has already had 3 seasons, as we were the first to launch an official esports competition with all clubs from the highest professional league involved back in January 2017.
This while Ajax tied the first Dutch football club esporter a few months after the likes of Paris Saint Germain, Galatasaray, Valencia and Porto already contracted FIFA esporters during the summer of 2016. The champions in these past years in Proximus eProleague were Quentin Vande Wattyne (Standard de Liége) and Matthias Rousselet (Charleroi). Dani Hagebeuk (Ajax), Dani Visser (de Graafschap) and Tony Kok / Jonas Gebrehiwot (PEC Zwolle) got their hands on the Dutch titles. The third title was shared by the Xbox and Playstation players of PEC Zwolle as it was a championship where clubs had to field a player for each console and matches were decided on the combined result.
Last year on the world stage for a while it seemed like Fnatics top dog Donovan Hunt aka tekkz was a shoe-in for the FIFA 19 world title, as he managed to win more international events in a row than anyone ever before, claiming seven international trophies at the tender age of 17. Yet to this day, the official title of World Champion has remained elusive for him.
However, if you are an esports betting man, it would be a good idea not to bet against Hunt when it comes to FIFA 2020 or 2021 events. He has just turned 18 in June 2020, so he has plenty of time to go for gold. Especially with the Support of football club Liverpool FC, the Messi of FIFA should be able to once again make an impact.
FIFA 2020 Conclusion
FIFA 2020 is quite different than FIFA 19, but I wouldn't say it's a huge improvement. For me it is very enjoyable to play, but in large part that is down to playing with friends and us always having fun when competing with and against each other. I imagine top players may have trouble to find motivation to go for Weekend League and fully enjoy what they do after twenty weekends. Graphics have been brushed up, but I expect a bigger improvement for FIFA 2021 because otherwise EA might lose some fans.
Especially after losing Juventus (Piemonte Calcio in FIFA2020) and the news that AS Roma will also not be in the next edition of the game officially (they will have a Roma FC with shirts that kind of resemble the Roma kits). This loss will be felt, despite EA adding Inter and AC Milan to their official partner line-up.
The next-generation consoles will allow for a great improvement in the next few FIFA editions when it comes to animations and visuals, and EA will have to improve because Konami – as I hinted at on my socials a month before they officially confirmed this news – will release PES 2021 as a free DLC for PES 2020 owners, and fully focus on PES 2022 for the next generation consoles and a brand new – Unreal – engine. Anyone wanting to buy PES 2021 would only lose 28 €, or about 25 £. Whether that is a smart move in their eternal struggle with EA will remain to be seen, but grab your popcorn and your credit cards, because it makes for exiting years ahead.