Rocket League Betting Sites & Game Review
By René Treur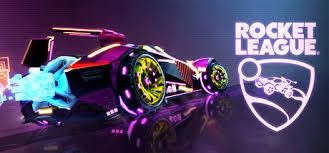 Psyonix' title Rocket League has brilliantly withstood the test of time, as at its 4th birthday in 2020 it is still one of the 10 most watched games in the world, and one of the most played as well. This is all the more impressive, when you realise the Rocket League World Championship 2020, that would have been held in Texas this year, has been cancelled due to the Covid19 breakout. What exactly is Rocket League betting? The best way to describe it is three dimensional football with cars instead of walking players, in a big cage.
Having spent quite some hours playing it, even in a period of my life where I did not have much time to play games, it has always drawn my interest as well, more so than most other game titles. What makes this game so special, and how did Psyonix' move, making it free to play, work out for them? In this game review we dive deep into the elements making Rocket League one of the most successful esports games ever created making Rocket League Betting incredibly popoluar, and forecast a foreseeable future for the game and it's competitive league and championships.
Rocket League Betting Sites
Rocket League Betting
Rocket League is a game of rocket powered cars that offer a lot of intensity and thrills. But instead of racing, the cars play soccer and this is something new to the taste of the Esports fans and gamers. As rocket League is still relatively new in the world of Esports, its following has been increasing, making it a good addition to the betting games that online betting sites offer.
There are many reasons Rocket League is ideal for betting. And these are:
Simplicity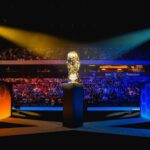 Bettors will love the simplicity of the game. They do not need a lot of time to understand how the game works. This will also help them in finding the best strategy and odds to take in betting.
Tournaments
For an Esport game to be best for online betting, there should be popular tournaments and competitions happening. Though this Esport game is still growing, bettors can enjoy lots of competitions and tournaments that they can bet on. Online betting sites cover different Rocket League tournaments, giving bettors varieties of matches to place bets on.
Growing Crowd
For betting fans, checking on how big or small the betting crowd is important. There are some who prefer a smaller betting crowd. Since Rocket League is still growing and getting bigger, the betting crowd is not yet that big, unlike FIFA or Dota. This allows them to easily analyze the games and matches so they can pick a good bet to place.
Multi-level Game Actions
When a game has different levels of actions, the online betting sites can create different betting that bettors can choose from and enjoy. Variations in betting will help make the Rocket League betting more fun and interesting. It will also be a big attraction for the online betting site, as this is what many bettors like in an online betting site.
Understanding Rocket League Betting Odds
Hardcore gamers are flocking Rocket League, as this is a relatively new Esport game. The tournaments, competitions and ordinary matches continue to increase, making the Esports betting on Rocket League grow as well. With this, bettors try to understand the esports betting odds that they can follow all throughout their betting. However, bettors need to understand that Esports games like Rocket League and its results will rely on how the gamers and players perform. Therefore, it is difficult to predict a good betting odd. Bettors can depend on the following odd trends.
Fan Favorite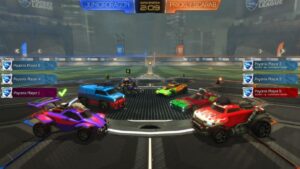 You can observe on which player the other bettors choose. It is possible that they are fan favorites because they are known winners. You can follow where the majority is betting on.
Underdogs
For some bettors, they prefer betting on the underdogs, as these tend to play harder to prove that they are also good. You can see the opposing players and analyze their statistics so you will know which ones are doing well but are still seen to be underdogs.
Match Summary
Your betting odds can also depend on your analysis on the previous matches. You can check out the last five matches of the players and see who performs well. This will require you to see their statistics and records, so you will know if they play good consistently.
For other games, the bettors can easily predict the betting odds. However, since Esports will rely on how the players will play, the betting odds will not be clearly laid out.
Key Features of a Quality Rocket League Betting Site
When choosing a betting site to play Rocket League betting, you have to carefully assess whether it can provide you a good betting experience. There are features that you can look for in a betting site to assure that it is the best one to offer Rocket League Esports betting.
Deep Betting Markets
This refers to the number of betting odds that a bookie offers for every match. The site you should choose should not just offer the usual winner-of-the-match betting, but there should also be other betting types that bettors can choose from. It can be based on statistics and records made in the match or tournament. The site should provide you varieties on the betting types in order to make the betting games more fun and exciting.
Tournaments
Choose a site that can cover and feature many Rocket League tournaments. This assures you you are betting on a continuously running Esports betting game.
Live Betting
Not all online betting sites show live streams of the Rocket League matches. Choose the site that has live streaming features and offers live betting on the matches. This will allow you to place bets as you watch the live games shown on the betting site.
Types of Bets You can Place on Rocket League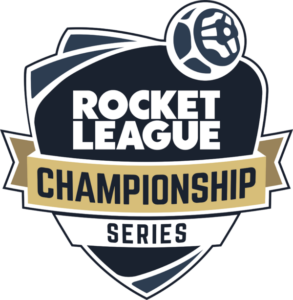 When an online betting site offers different bets to place, bettors get excited and interested in it. The variations in bets can help the site get more bettors and members to join the Rocket League betting. For Rocket League, there are several bets that a bettor can choose from. These are:
Moneyline
This bet is a straightforward as the bettor will just have to choose a team they think will win. If their guess wins, then their bets win as well. This is a favorite of many bettors because it is easy and exciting. The newbie bettors also prefer this bet, as this is the most common bet in most Esports games.
Outright Bets
This is a type of bet where the bettor will bet on a team that may reach the finals or win the tournament. This is not based on the outcome of every match, but instead of the whole tournament. The betting amount on this type can be bigger than those placed in moneyline or per match bets.
Combination Bets
This is a strategical type of bet that many experienced bettors use. This is a collective bet on different games resulting to higher paying amount and also lesser risk of losing money.
Special Bets
Special bets usually rely on statistics made in a match by players. Bettors can place bets on different stats like who made the first goal, who made the most points or other things related to the game. Special bets are created by online betting sites to offer varieties of bets to the bettors and further attract them to keep betting on the Rocket League matches.
Live Bets
Live bets can only be played in online betting sites that show live streams of the matches. This is a type of bet where bettors can still place the bets even while the matches are in progress. Many bettors prefer this type of bet as it is more exciting and fun. It allows them to see how the match is going and analyze or even predict results where they can place their bets on.
The different online betting sites have varied betting types offered. Some may offer more than the others. It may appear to be more fun with sites that offer more betting types, but always look for one that has legit banking methods to ensure that you are playing in a safe and protected online betting platform.
FAQ
1. Is betting on Rocket League legal?
Betting on Rocket League is legal since the Esport is licensed and legit. However, it is important that you check if online betting is legal in your country. There are some countries that do not allow online betting and consider it illegal. To make Rocket League betting legal, the country you are in should consider online betting legit as well. You can first do a research whether your country allows online betting and if the betting sites that operate in your country are legit and licensed.
Another thing is that the online betting site you are betting on should also be licensed and legit. This will give you a pleasant and safe betting experience, as these licensed sites have regulations that will protect their members from online frauds and scams. As long as the betting site is offering the Rocket League betting, then it means that it has agreements done with the licensing company to operate such betting games.
 2. How to watch pro Rocket League games to bet on?
The best way to watch Rocket League matches and tournaments is through Esports live streaming sites like YouTube, Twitch.tv and MLG.tv. These sites show matches of different Esports games. There are online betting sites that have live streaming features but not all have this ability. Do research on which betting sites have this feature. These are the online betting sites that also allow live betting for their bettors. This is one attraction that betting sites offer to the bettors.
Some gamer groups that play Rocket League also share live streams of the matches through their social media accounts on Facebook or Twitter. Today, the Rocket League match crowds continue to grow and more people are enjoying watching the matches through different platforms. Therefore, more and more sources stream live games and matches so more people can enjoy the exciting game of Rocket League.
Betting on Rocket League
The biggest tournament of the year was supposed to be the Rocket League World Championship 2020 in Texas this year.
The Covid19 breakout scratched these plans for a massive offline event, which I personally think is a huge shame because I had been talking to the broadcasting organization about a role as commentator. However, it looks like the World Cup where the possibility for esports betting is huge is still happening, just with regional qualifiers played online, and at a later date. The prize purse for the World Cup event is 1.000.000 $, and the total season prize purse is massive. "By the end of the season, more than $4,500,000 in prizing will be awarded across all regions"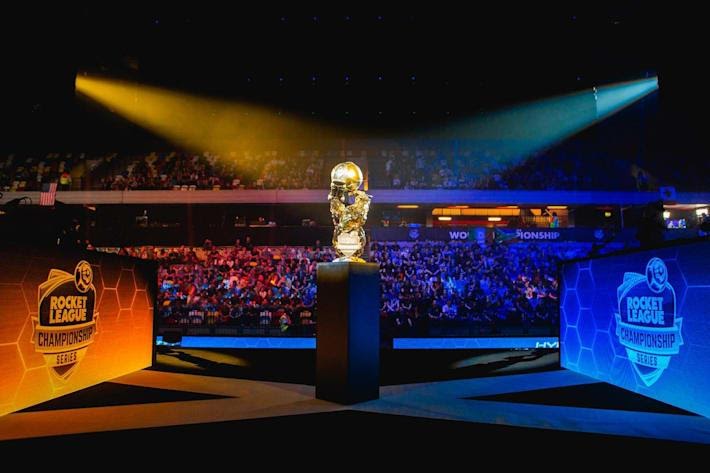 If you want all details about how the qualifications work keep an eye on the official Rocket League website; www.rocketleagueesports.com/
If you are too late to qualify, don't worry, because every season a new opportunity arises.
Previous iterations of the RLCS have shown us what a tremendous level of tactical awareness, reflexes, communication and ability to cope with pressure the top Rocket League esports players have reached.
For anyone who just starts now to reach this level amazing talent and commitment will be needed, as well as a clear structured plan and approach. Best approach would be to get in contact with a pro Rocket League player or coach and have them teach you the basics of Rocket League on a professional level, and ask for tips on the optimized way to practice.

How to play Rocket League?
To pick up Rocket League on a basic level is easy. Playing against the computer there are several difficulty levels you can choose for the bots – AI players – . The 5 minute games make that you can take any short moment in your day, and fire up a game of Rocket League. Girlfriend had an early shift and I start work at 10? Let's slap the laptop on the breakfast table and do a few games while I enjoy a sandwich or a bowl of cereal and fruit.
I love a good online shooter game like CS:GO, but once you start a game, you're invested. Because it's a team game you don't want to bail out on your mates, and you will be pugging at the very least 25 minutes, and that's assuming you trample your opponent in a 16-0 stampede. For a good balanced game, you're easily working your magic 45 to 60 minutes at a time before the opponent rolls over and shows you their belly, or worse, before you have to concede a glaring loss. You could play a game of Rocket League after throwing your steak in the pan, and almost be done in time before it's properly cooked.
In Rocket League, you can play 2v2, 3v3 or 4v4, but just as easily just take on the computer on your own or with AI compatriots. Matches are fast paced, full of action and suspense, especially once the timer starts urging you on towards the final hurdles. You can even play offline split screen with members of your household or visiting friends, which doesn't work as well as full screen play with such high paced action in a 3D environment in my opinion, but it is still a nice addition, and brings me back to the memories of playing Whacky Wheels (free game that came with Duke Nukem 3D upon purchase) with my brothers in split screen mode.
Of course there is not just a single player match mode or split screen, there are also the single player career mode and the multiplayer mode for online. There can even be cross platform gaming, where the 'PC masterrace' can take on PlayStation players.
The tactical aspect of the game gives it a depth, especially in 2v2 or 3v3 mode, that you would not expect from a game that is at first glance very simple. Why didn't I mention 4v4? To be honest I feel like that mode is a bit chaotic and random, which doesn't make it any less fun, but hardcore Rocket League esports players will not likely go near it.
Rocket League Betting & Game Special Features
The nitro boost is a crucial part of the game. Certain tactical spots in the cage, or map if you will, allow you to recharge the nitro boost once you have partially or fully used it. It's crucial for both defense and offense to time your nitro boost and wall jumps to perfection.
There is an abundance of customization options for your car. Different tires and hats, as well as completely different models of cars or crazy nitro tracker beams. It is nice to fully customize your car to your taste, it's not something I'm really anxious to explore fully until I have every little option unlocked but nowadays in games it is standard and gun models, Chibis and logo's in game even get paid for on a daily basis en masse, so it's obvious the current generation of young gamers are expecting nothing less. One note is that I would have liked the different options cars and tires to have an actual effect on your speed and ability, but they don't. Because the game is physics based, the hit boxes of the cars are actually different.
Rocket League in 2021
Starting this summer, Rocket League is free-to-play. You can download and play the game for free through the Epic Games Store. Epic hopes to introduce as many new players to the game as possible, who are hoped to be spending money on skins and customization.
You might think this is something that will anger the players that have bought the game, especially the ones that did so quite recently. For them Epic Games has masterminded certain bonuses. For instance they get an "Est. 20XX "title, which shows how long they've been playing Rocket League. But there's also the esports betting bonus that you get to invite your friends who have never played it before to play this game with you and showcase them your insane skills. 
Match making is also a feature for this game when it comes to online play. The single player is enjoyable but nothing beats playing with friends. But sometimes they're all otherwise engaged, so I like to jump into online matches. Sometimes when I start Rocket League matchmaking, I find a match within 20 seconds, which is obviously great. But there are times with barely any servers online for minutes, sometimes more than ten. For a game where multiplayer is so much more enjoyable and important than the single player mode I would expect more. Especially from a giant like Epic Games.
When it comes to the stadiums, there's a handful, and I think they look good. Sure there are better looking games out there, but with the fast paced action in the cage who is going to spend time watching the mesmerizing backgrounds? Not me, except for the fact that I was glancing at it longer than I would have if I wasn't writing a review on the game.
What I would call one of the special features of this game, is the insane amount of pull it has on me once I start playing. It's so satisfying when you score a beautiful goal or make a great save, especially when playing co-op with a friend, that for me the game is highly addictive. Like I said before its 5 minute games are easy to pick up during breakfast or while a dish is heating up in the oven, but be aware that you might easily forget the time and appear spectacularly late for work.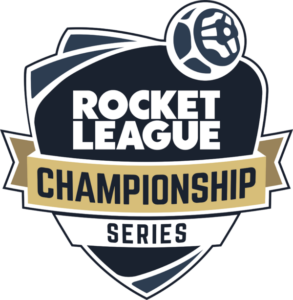 Other Games to Bet On
Rocket League Betting Conclusion
If I were to find anything about Rocket League that I could fault, I would have to really look for it and be a nitpicker. One thing that doesn't bother me but you could say is lacking in the game is a storyline or characters that you get attached to, like in Final Esports Fantasy betting Games or Gordon Freeman in Half-Life. But again, that's because I'm looking for something to point out. And of course, the game is a few years old so graphics could be better with nowadays technology available. But like I said before, the graphics look good and are fine for the type of game this is. When you are in a battle for goals I assure you you will not be chilling at the side of the arena and looking at the surroundings.
I would strongly advice any gamer out there to buy this game after having played it awhile and still not losing the urge to play it. But the great news is it will be free from somewhere this summer for anyone who's willing to download it through the Epic Games Store, so there is actually no excuse at all not to try this game for PC owners like me who would like to spend some time just emptying their mind from their daily worries by playing a game. It will draw you right in and not let you go until way past the time you intended to spend on a gaming session.