It's often easy to forget just how young esports in its current form is – whilst many suggest that it has been around since the late '80's and early '90's, the scale and scope is much different from what we see today, with the past decade really being the big mover in the scene. And with the growth have come a large number of changes, the most notable being the introduction of widespread betting across multiple titles and the introduction of esports to an unlikely audience, but where did esports betting start? And how did it grow so quickly?
Whilst there has likely always been some form of betting, it had largely been through less than ideal websites or something unofficial – things quickly started changing in 2013 however when Counter-Strike: Global Offensive launched the Arms Deal update. This update brought a number of cosmetic appearances to the in-game weapons with a number of different identifiers from weapon grade to weapon quality – these were obtained by receiving a 'weapon crate' drop in-game and then purchasing a key to open the crate – this triggered a slot styled spin which would give you the quality of skin. The weapon grades and percentage chance to receive are;
White (Common – Consumer Grade) – The lowest quality, and often the lowest cost.
Light Blue (Uncommon – Industrial Grade) – A similar rarity to the common skins, and a similar value.
Darker Blue (Rare – Mil-spec) 79.92% – The value starts creeping up a little with these being slightly rarer than the previous two, but still common.
Purple (Mythical – Restricted) 15.98% – Cosmetics here, especially early on start to garner a lot of value with notable examples such as the Glock Fade
Pink (Legendary, Classified) 3.2 %– The third highest tier and rarity, with another price creep and more stylised design.
Red (Ancient – Covert) 0.64% – The second highest tier and where prices can start seeing huge increases, these cosmetics are typically coveted on the more widely used weapons and often have some very pleasing designs.
Gold (Exceedingly Rare) 0.26% – The rarest and covers only two cosmetic slots – the knife, and gloves. Steam market prices for these cosmetics can often range into the thousands due to the exclusive nature of many.
Yellow Orange (Contraband) – This category covers only one skin, the M4A4 Howl which had been removed from circulation after it was discovered the artwork was stolen, and only those unboxed prior to the removal remain.
On top of this there were also other modifiers – different qualities to show weapon wear from Battle-Scarred to Factory New were also implemented, as well as 'StatTrak' which would track the number of kills with that particular weapon and were also big indicators of value.
The introduction of these skins kickstarted what would be the first big iteration of esports betting, but rather than using money to bet players were doing so with these cosmetic skins through a popular site at the time, CSGO Lounge. The site would take the average value for the Steam Marketplace, where the game can be found and where skins can be bought and sold, and assign that to the bet, if a player were to win a bet they would receive their original skins wagered in return alongside other skins as the pay-out with the service taking some of the lower value cosmetics as their cut.
Things would quickly change here however following an event in 2014 – an American team, iBUYPOWER, had been performing extremely well and were the favourite to win an upcoming game, but at a time where prize money and player salary had still been low, the addition of skin betting led to biggest match throwing controversy in the game eventually leading to a permanent ban of five iBUYPOWER players and action to be taken against these skin betting sites as game developer of Counter-Strike, Valve, had deemed it to be an issue. Following these there had been a lot of change, and CSGO Lounge still operates to this day with more support and more safety, but is nowhere near as prevalent as it once was as the only real form of CSGO betting at the time.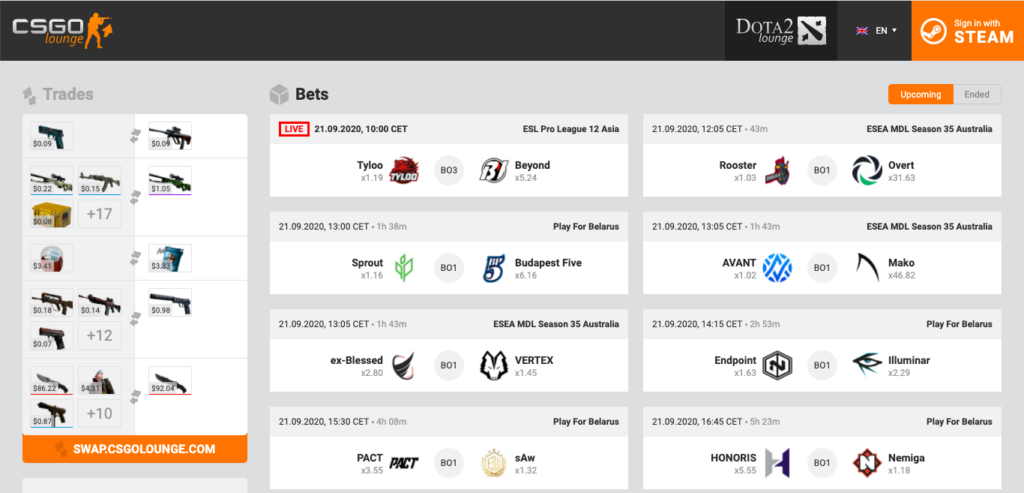 Whilst there had been big changes to skin betting, what it did do however was show just how much interest had been growing for the esports scene and many operators were quick to catch on to the demand and growing number of players and late 2016 and early 2017 saw the quick emergence of many big names getting into the scene – names such as betway were quick to sponsor large Counter-Strike events and teams such as Ninjas in Pyjamas, and other well-known names in the betting industry would follow too – with millions of players invested in esports it had previously been ignored until the huge success of skin betting.
Now betting is represented across all of the big titles – Counter-Strike, League of Legends, DoTA2, Overwatch, Valorant, and many others and has introduced esports to an audience that may not have typically been interest largely through familiarity – as esports continue to grow and become more representative of even the more traditional sporting events, online esports betting will play a continued role in the growth and exposure for many of these games.