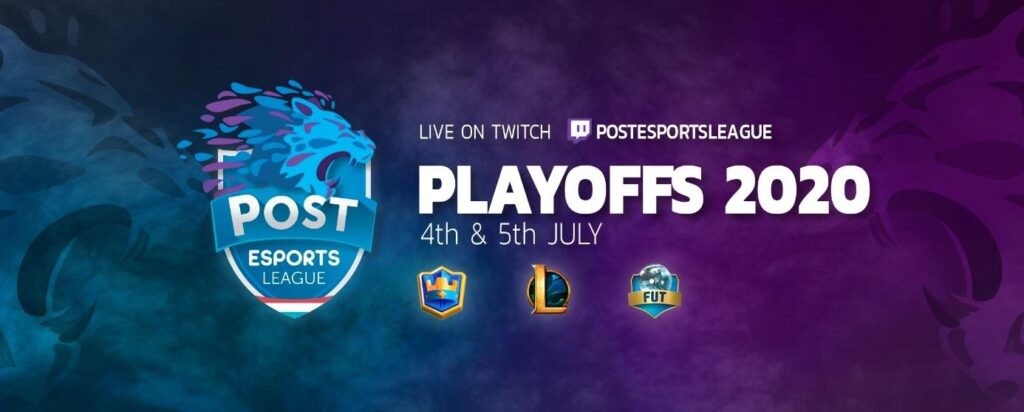 POST Esports Masters Luxembourg announced
POST Esports Masters Luxembourg was announced last week with big competitions for FIFA21 FUT, League of Legends and CLASH ROYALE. Registrations just opened and with a prize purse of 2.700 € for the FIFA21 competition for instance, there is enough reason for Luxembourg players to be interested.
If you want to know more or register be sure to visit the official website;
https://postesportsmasters.lu/fifa/
Anders Vejrgang keeps up the pace, now 510 FIFA wins in a row!
While it became increasingly difficult each week to properly emphasize how special it is what Anders Vejrgang was doing, the Danish 15 year old had again reached 30 wins from 30 games in the Weekend League last week. The first weekend of February he was offered a few scares, but once again doubled down and provided spectacle on his live stream.
Since EA Sports released FIFA 21 he had not lost a single Weekend League game just yet, and went to 510 straight wins from 510 games at the start of February. He did however lose this last weekend, which finally put an end to his inhumane streak. The Red Bull Leipzig player had bagged 25 more games, landing him at 535 won games and just 5 away from another perfect weekend, which would have been weekend number 18 in a row with 30-0.
Then Sunday the 14th of February 2021 faith pitched him against Dutch Damian Sitaram, a 19 year old player from Delfgauw. While I had not been watching the stream of Vejrgang this weekend, my attention got drawn to this result by an old picture on my Instagram account suddenly getting likes from all over the world. It was the picture of myself on stage at the Yanmar Stadium, home of Almere City FC, handing over the winners cheque to Sitaram right after the qualification tournament where Almere was finding their new FIFA21 player.
Realising Sitaram, whom I had tagged in the picture, must have done something extraordinary on the digital pitch, a quick search learned that he is the first, after more than a hundred people trying, to beat Vejrgang. It was a deserved victory as well looking at the stats, and the ending score line of 5-1 in favour of the young Dutchman leaves little room for other interpretation.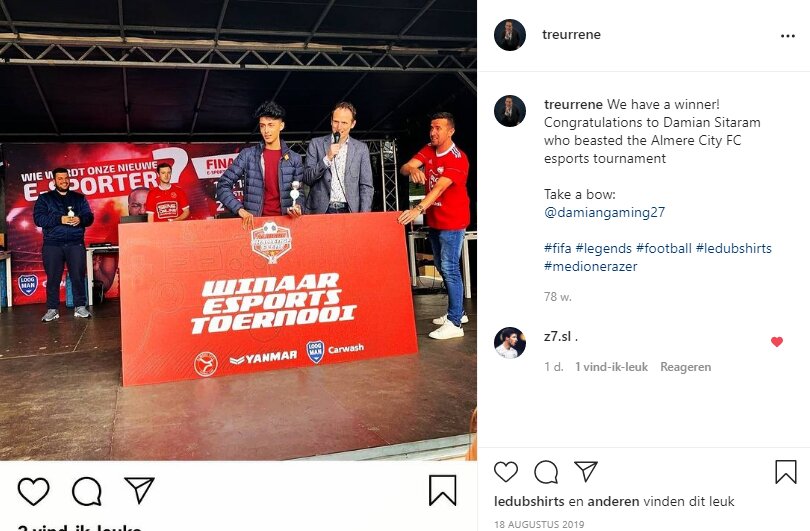 Sitarams was not chosen by football club Almere, who picked another contender who reached top four. They might be scratching their heads now for the esports pick back then. The club currently sits 2nd in the table in the Keuken Kampioen Divisie, the 2nd highest Dutch league right below Eredivisie. Their second place does not warrant a direct promotion if they keep it for the rest of the season, but they have a great chance of qualifying through the playoffs for the first time in their history.
Sitaram might be a good player to tie to the club if they can in that case, if he is still up for it after not getting the nod despite winning the tournament. Sitaram has shown that he is ready for promotion to the highest level and that he could hang with the best in eDivisie, the official Dutch FIFA21 esports league, by beating young Vejrgang. This had so far only been done by a handful of people, and by no one yet in an official FUT Weekend League match of FIFA21.

Contacted by Esports Betting Sitaram was eager to show his delight;
Hi Damian, Where you conscious of Anders' 17 weekend run when you went up against him?
Yes, I was conscious of the fact he was close to an 18th 30-0.
When did you know you would take this match?
After the 3-1 in the 81st minute I knew I was never going to give this win away.
Where you nervous for this match, and did you approach it different from others?
I did approach it differently. I knew a win would break a huge record and that I would become global news. I am so happy for what I showed in this match!
How does it feel to have beaten him?
It feels good of course, because I was the first in the world to be able to achieve this. My social media has really been impacted positively and I can be so proud of myself for how I played that game!
What was your Final Weekend league score?
27-3 with a disconnect unfortunately. The first disconnect of my entire life… This weekend was also the hardest weekend of my fifa 21 career! I came up against 4 professionals and in total 14 verified players.
What are your esports ambitions? Do you feel like you're ready for a step higher, such as eDivisie?
My ambitions are to eventually play eDivisie for a club. And to represent a good organisation!
What is the moment in your FIFA career you are most proud of? 🙂
There are several moments I am very proud of. The two most important are :
1. The times I reached top 100 and top 200.
2. This win against Anders Vejrgang

Thank you for your time Damian!
Meanwhile Vejrgangs Twitter account, for the first time in 18 weeks, remained empty. The loss takes nothing away from what he has managed to do, and he has set the benchmark for years to come, where others will try and emulate his stretch of success.
For a while now everyone has been eagerly anticipating the moment Vejrgang turns 16, because then he will be eligible to play in official FUT championship events, as well as the eBundesliga for his German football club RB Leipzig.
Many think that Vejrgang, if properly guided and coached, can have the same successes Donovan Hunt aka Tekkz managed in FUT champions Cups, as well as maybe even go above and beyond the call of Duty and call himself an official FIFA world champion in the next decade, a prize that so far eluded Hunt. Vejrgang so far, seems to be the chosen one, and it is just a matter of time before his read on the matrix delivers the Hollywood ending many are expecting.