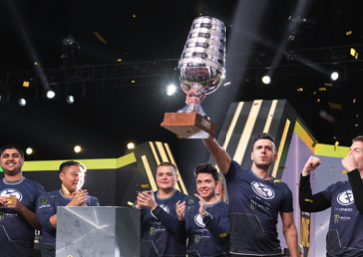 ESL one Cologne reached its final conclusion
Heroic won ESL One Cologne's European tournament. They managed to best team Vitality 3-0 in a one-sided grand final of the 325.000 $ tournament this weekend, claiming the 150.000 $ first place prize. This result confirmed to everyone their recent entry into the top 10 CS:GO teams list at hltv.org is not a fluke, and they are here to stay. The Danish team obviously has some of the best practice partners in other Danish teams like Astralis, and they have elevated their game to the highest level during 2020.
ESL One Cologne NA, the North American version of this massive multiple continent tournament, was a much closer affair. Evil Geniuses won their third tournament in a row after winning BLAST Premier and cs_summit 6. Liquid forced them to go all the way in the grand final of ESL One Cologne NA, but after map 5 had to bow out of the tournament in 2nd place. EG earned 65.000 $ for their massive effort, and have now bested Liquid a number of times in a row, laying claim to the title of best North American team.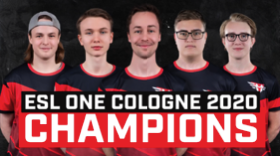 Renegades became champions of ESL One Cologne 2020 Oceania, not allowing any surprises to happen there as the team in form kept their seat on the throne, and cashed a 10.000 $ cheque. They did not lose a single map in this entire tournament, making their 5th title in a row the most impressive one yet. In the past six months they managed to lose just 13 out of their 59 played maps, which accounted for just 2 lost matches.
Their next regional challenge has already started for Renegades last Wednesday, with Perfect World Oceania League Fall, and will find it's grand conclusion Sunday the 6th of September.
This tournament is the last in the Oceanic region where ranking points towards the Regional Major Ranking can be earned. These RMR points determine which Oceanic team gets to advance to ESL One: Rio with Contender status.
The PWOLF prizepool:
1. $12,500 + 2,500 RMR points
2. $10,000 + 2,344 RMR points
3. $7,500 + 2,188 RMR points
4. $6,000 + 2,031 RMR points
5-6. $4,500
7-8. $2,500
Follow the action live at https://www.twitch.tv/pgl
Belgian Esports Federation and European Esports Federation see the light

The Belgian Esports Federation, or BESF in short, was surrected this year, as well as finalizing the European Esports Federation, or EFF, this week.
The BESF represented by its two Vice-presidents alongside 23 national esports organizations and 3 partners signed the founding charter of the European Esports Federation. The EEF was officialized after a two-day inaugural congress held in Brussels at the European Parliament.
In short, the BESF mission statement, as provided on their website, sounds as follows;
"The Association aims at managing, organizing, encouraging, and control over the development and practice of esports in Belgium in the broadest sense."

On their LinkedIn announcement, more insight was given as to what the organization aims to do;
"The European Esports Federation has been established to reflect the digital change and deliberative democratic formats of the 21st century, it will be a moderating partner of esports stakeholders rather than a governing body, thus aiming for bringing together national federations, stakeholders and esports ambassadors.
Finally, the EEF will protect European interest in the global esports betting movement and will be actively looking for strong partnerships with regional bodies; as well as with developers and publishers. The organization will establish a deeper dialogue with video game creators on developing a common approach to sports and intellectual property."
Benelux Charity Showdown 2020.
The Benelux Charity Showdown 2020 is a streaming event that raises money for the Kadee Fund, who's aim is to help children who are gravely ill and have to spend a long time in the hospital.
The Benelux Charity Showdown is running from the 1st of September for exactly a week, and at the time of writing not much is known about the schedule, but we at BestEsportsBetting have deduced there will be a League of Legends tournament, consisting of two groups of 6 teams, which will lead into a double elimination bracket stage.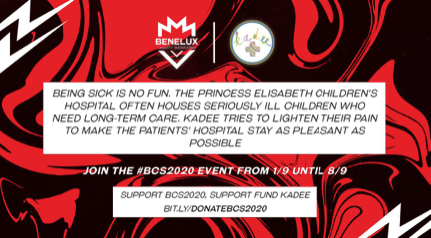 Big names were involved in masterminding this seven day long stream, most notably Armand "Ragaga" Luque and John "Wunda" Smith-Howell. They quickly brought in FIFA streamer and shoutcaster Xavier-Sigi "Xsodus" Osselaer.
When you read this the action should be in full swing, you can watch it unfold live at the Team 7AM Twitch.tv channel, where all casters will be speaking, shouting or singing in English; https://www.twitch.tv/team7am