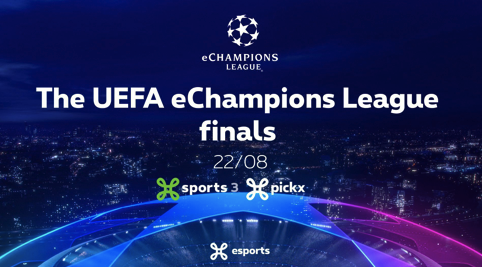 This past week the FIFA 20 season came to an official close with the EA eChampions League Invitational. Usually EA has a huge offline event as culmination for all their FUT Champions Cups and online qualifiers called the EA FIFA eWorld cup, but due to Covid19 this years edition was cancelled. A number of online tournaments was organised and broadcasted, with this 100.000 $ eChampions League Invitational as culmination.
Seven FIFA players who have made a lasting impression in FIFA20 such as Spencer "Gorilla" Ealing and Michael "Megabit" Bittner combined with reigning FIFA19 World Champion Mohammed "Mo Auba" Harkous to duke it out for the 35.000 $ number one prize. Olle 'Ollelito' Arbin and Donovan "Tekkz" Hunt were the favourites for the title, but unfortunately the dream final never materialized.
While Fnatic's Tekkz did what everyone expected him to, reaching the Grand Final without dropping a single match and never having to fight his way back from the Lower Bracket, Ollelito had a stroke of bad luck during the first leg of his first matchup that ended in a 1-1 draw against MoAuba. His interpretation of the rules, that stated a maximum of 4 Icons were allowed to be used, got him expelled before his campaign ever really took flight. He assumed when taking an Icon off the field, it was allowed to be replaced by another Icon, but bringing on Cruyff for Eusebio meant the admin team had no choice but to disqualify the young Swedish revelation.
Niklas "NRaseck" Raseck never dropped a match until the german had to concede his first loss in the winner bracket final against Tekkz. Meanwhile Gorilla and MoAuba clawed their way through the groups using the Lower Bracket as a means to fight themselves back into contention, MoAuba even winning a grand final berth by winning against NRaseck, who had humiliated him before with a 2-0 and 4-0 home and away result in the group stage. Up against the 18 year old UK sensation, he had no chance however, and dropped the finals with a combined 5-1 score in favour of Tekkz.
I was privileged enough to be hired to be at the Proximus Media House in Brussels to do live TV coverage of the matches, observing and adhering to Belgian safety regulations naturally. Each of the casting crew had their own voice recording booth, and we were expected to wear mouth masks out in the hall way.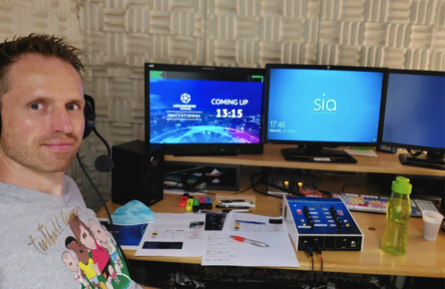 When FIFA21 hits the shelves in October, expect big announcements from EA about their upcoming esports season and prize purse.
Fortnite's Apple struggle continues.
Epic games struck back after Apple claimed their action to be the digital equivalent of shoplifting. They organized an anti-Apple tournament under the name #FREEFORTNITE CUP, explaining what happened in the process;
"Apple has blocked Fortnite from the App Store, preventing players from updating to new versions. Players on iOS devices will be left behind on Chapter 2 – Season 3 while everyone else jumps into the Chapter 2 – Season 4 launch on August 27."
The battle continues and Epic Games are not willing to back down from a fight.
The anti-Apple tournament was played Sunday the 23rd of August;
https://www.epicgames.com/fortnite/en-US/news/freefortnite-cup-on-august-23-2020
It was the last tournament where Apple users and Android players could play a tournament together. Season 3 has now been closed to make way for season 4 as per August 27th. Due to the Apple store Fortnite ban, this season can no longer be played via iOS.. If you look at the prices, you will see that there were more than 1,200 hardware prizes to be won. Of course all with Android as the operating system. Other prizes are also clearly a reference to Apple and the tournament banner was a nice touch in my opinion.
Mario Kart World Championship
Last week we announced the Mario Kart World Championship, and while it took place, some of the competitors could not make it to Esports Game Arena due to Covid19 travel restrictions. In the absence of at least five players who are considered among the ten best in the world, Karel van Duivenbode managed to grab a winners medal and the plaudits. The Dutchman celebrated on home soil together with the French duo that completed the podium, Guillaume Leviach and Jeremie Clement.
Finally, the professional sport clubs keep jumping head first into esports waters, as Spanish football club FC Barcelona has established an esports cooperation agreement with Tencent. The Chinese multinational conglomerate will help Barcelona with their involvement in "esports betting competitions, esports education and industry exchange in the future with a view to exploring the many possibilities of collaboration between sports and esports."
FC Barcelona already competed in Psyonix's Rocket League and Konami's eFootball PES leagues, but had already been rumoured to be looking for involvement in League of Legends competition as well. Tencent will definitely not advice against this idea, so I imagine we will see Barcelona announce their LoL plans very soon, and perhaps even Fortnite. Especially considering the stake Tencent has in esports titles, owning for instance 100 percent of Riot Games (League of Legends), 84.3 percent of Supercell (Clash Royale), and 40 percent of Epic Games (Fortnite).
Another Spanish club has also decided to 'up their game', with Real Betis announcing they will let go of their Spanish CS:GO roster to make way for a talented international squad.
Their new team so far consists of a Swedish core; in-game leader Sead "Djury" Jahovic, Jovan "aybeN" Mucibabic, AWPer (sniper) Aleksandar "jayzaR" Zarkovic, and CYPHER, a youngster from the UK. Two Spanish team members are left, coach Pablo "pulga" Fernández and veteran David "Kairi" de Miguel, who is benched as the team looks for another fifth player to complete the starting line-up.