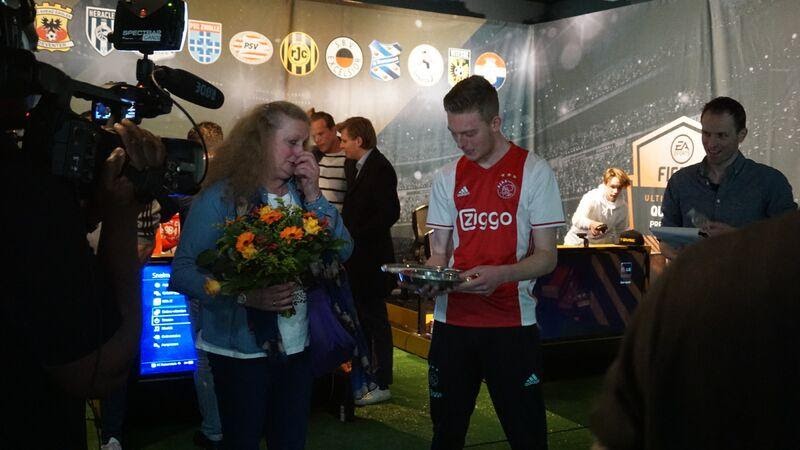 AFC Ajax wins official Dutch FIFA championship, eDivisie.
Ajax is the new champion in eDivisie, the official Dutch FIFA21 championship with all the top flight football clubs competing. Dani Hagebeuk and Tjardo Paliama won the championship plate and will be splitting the 25.000 € prize awarded for clinching the first place. While Paliama, former Almere City FC and Vitesse player, wins it for the first time, Hagebeuk has had eDivisie success before in the very first season.
Wednesday night the finals were played, with Vitesse and Ajax reaching the play-offs. Vitesse players Renzo Oemrawsingh and Levi de Weerd were playing live in the Gelredome, stadium of Vitesse, and were actually cheered on by a live crowd right outside the stadium.
At some point, over 40.000 simultaneous YouTube viewers watched the grand final match. The seven teams that reached the grand finals but did not win, with FC Emmen as big surprise inclusion, will split the other 25.000 € in the prize purse. Last year Ajax, back then with Brazilian Curtis Poole instead of Tjardo, managed to come second behind champions PEC Zwolle, represented back then by Tony Kok (still there) and Johnas Ghebrehiwot (now a West Ham United player).
Dani, when asked for a comment on the win ;
"Being so close to the title last year, makes winning it this time all the better".
The new season will kick off in March, with the finals planned in May.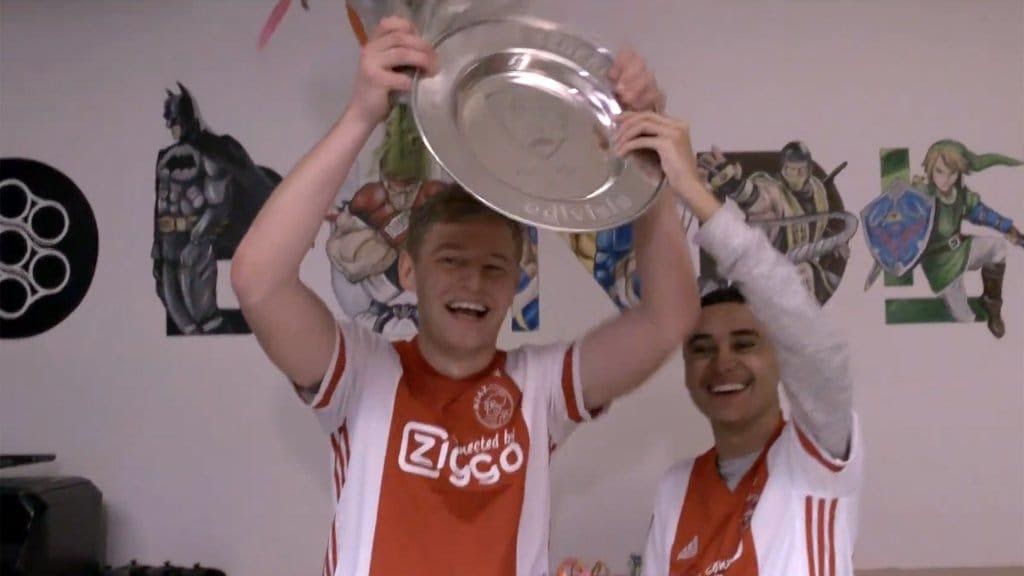 Dani Hagebeuk, Tjardo Paliama, Renzo Oemrawsingh and Levi de Weerd have also been granted a spot in E_Oranje, the digital Dutch FIFA21 squads pre-selection as a result of finishing top four in the league.
Speedrunners-event Games Done Quick.
Speedrunners-event Games Done Quick, which usually donate huge amounts to charity, was held the first week of January 2021. Usually a physical event, this time it was played out online. Through a live chat and special guests and surprises. The organisation tried to keep the spirit and atmosphere as competitors are used to from previous events.
This year the chosen charity was the Prevent Cancer Foundation, and among the games played were Mirror's Edge, Ori and the Will of the Wisps, Sonic the Hedgehog, Darksiders, Ratchet & Clank, Super Mario World 2: Yoshi's Island, Pokémon: Platinum, Luigi's Mansion, The Legend of Zelda: Majora's Mask, Super Meat Boy, Beat Saber en Sekiro: Shadows Die Twice.
It is currently unclear how much money was raised, but if the previous years are any indication the Prevent Cancer Foundation will receive a large donation ;
If you would like to see all the games that were played and the times achieved, as well as see all the action unfold as it did live on stream, you can watch everything back here ;
SuperGen Group creating "esports city"
SuperGen Group, parent company of Chinese esports organisation Edward Gaming (EDG), is making waves in China with plans for a 1.500.000.000 $ Shanghai International Culture and Creative Esports Center. China has always committed to esports but is doubling down on it with the supersized dedicated esports city within Shanghai, which is to be the first of its kind.
The plans are to make Shanghai the beating esports betting heart of China. Shanghai should ideally "host over 300 esport events a year and become the hub of the industry in China". Furthermore SuperGen Group and EDG hope to attract esports companies to vest themselves there and offer up around 2.000 esports-related jobs.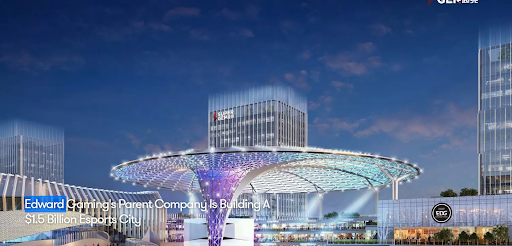 Like other industries, the gaming industry as a whole took a big hit due to Covid19 measurements restricting possibilities for developers, tournament organisers, and esports organisations focused on coaching and talent development (among others). However, esports arguably blossomed, especially towards the end of the year as subsidiary funds could not be spend on live sports or recreational events, and were creatively used for online esports competitions. China was no exception.
Recently Worlds 2020, the League of Legends World Championship was held in Shangai, in the Pudong Football Stadium. With more and more esports venues being raised in China, the biggest of them all appears to be coming to Shanghai to free up space and time in the Pudong stadium for traditional sports. EDG will have their home venue in the esports city, as well as their office building and an esports entertainment center.
There will also be an arena of over 500.000 square meters with place for a live crowd of 6.000, a 5-star gaming-themed hotel, and a skydiving attraction. The Esports Center should be completed by 2023 according to plans, but the covid pandemic will no doubt delay the progress so this is uncertain at this time.
The full report is available on GGrecon :